Enjoy this Summer in Greenville, SC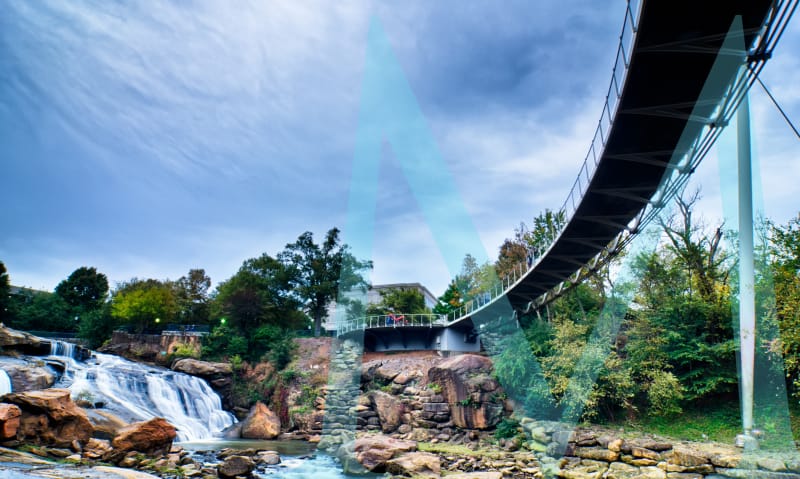 Many of us are already dreaming up plans for the summer months to follow. Whether it be a picnic, a hike in the woods, or trying new restaurants with outdoor seating, our lists are endless, especially as we consider how our pandemic summer was different than any we had experienced before. The great news is that just as there are many things to do in the fall in Greenville, SC, there are even more great things to do in the summer.
7 Fun Things to Do This Summer in Greenville, SC
If you are already thinking through plans for the summer, you'll be pleased to know that there are lots of great activities that you can do, many of them at no or little cost to you. The variety of available activities is just one reason why Monroe Family Dentistry loves Greenville, SC.
Check out our list below of 7 fun and cool things to do during the summer of 2021 in Greenville, SC.
1. Falls Park on the Reedy & the Liberty Bridge in Greenville
This place is a source of pride and joy for Greenville, SC, residents, and as such, needs to hit the top of the list for great places to visit and fun things to do. Make a trip to downtown Greenville and be captivated by the Reedy River Falls while looking down from the Liberty Bridge. There is no other single-suspension bridge quite like it located in the western hemisphere.
2. Downtown Trolley & Heritage Green
During your visit to downtown Greenville, SC, why not take a ride on one of the red-and-blue trolleys that make their way up and down Main Street? The trolley makes it easy to get to other excellent locations, such as the Greenville County Museum of Art or the Greenville County Hughes Main Library. The South Carolina Room at the library is staffed by experienced historians and genealogists, all ready to share insights with you into Greenville's history.
3. Runway Park at GMU & Military History Center of the Carolinas in Greenville
This is the perfect place for anyone interested in aviation or who has a passion or appreciation for the United States Armed Forces. Kids will love the aviation-themed playground, and even the oldest of kids will enjoy watching the planes take off and land at nearby Greenville Downtown Airport. Be sure to check out the Model-T ambulance from World War I and other fascinating military-related memorabilia.
4. Kilgore-Lewis House & Gardens
History lovers will appreciate a visit to this historic house that was built back in 1838. With 3.5 acres of lovely gardens and tall trees set amongst a beautifully restored spring, this is the perfect place for romantics too. Both the house and spring are listed on the United States National Register of Historic Places, and guided tours are available.
5. Poinsett Bridge & Campbell's Covered Bridge in Greenville
If you love the mystery and design of bridges, be sure to step back in time with a visit to the Poinsett Bridge, South Carolina's oldest bridge, and the Campbell's Covered Bridge, the only remaining covered bridge in the state. The area around the Campbell's Covered Bridge is perfect for those wishing to explore the old grist mill foundation. The Poinsett Bridge will mesmerize you with its stunning 14-foot Gothic arch stone structures that span 130 feet over Little Gap Creek.
6. BMW Zentrum Museum in Greenville
Even if you aren't a BMW owner, you'll appreciate how the BMW was designed for driving pleasure. But if you can't drive one, you can certainly appreciate the quality and craftsmanship of this famed automotive brand with a visit to the only official BMW museum located in North America. And if walking through the museum isn't enough and you still have a need for speed, pay a visit to the BMW Performance Center, where you can pay a pretty penny for an adrenaline rush like no other.
7. South Carolina Botanical Garden
Summer 2021 will be the perfect time to visit the South Carolina Botanical Garden, located just 45 minutes away in Clemson, SC. You'll enjoy 295 acres of trails, gardens, and a nationally recognized, nature-based sculpture garden. And while in the area, pay a visit to the Bob Campbell Geology Museum, perfect for anyone who loves rocks.
Don't forget your trip to your Greenville, SC, dentist.
If your last visit to the dentist was over the winter, you are likely due for another dental examination. Don't let tooth pain, whether it be wisdom tooth pain, pain from a broken tooth, or otherwise, keep you from enjoying the summer that you deserve. Request an appointment with Monroe Family Dentistry, your Greenville, SC, dentist. We can do more than recommend home remedies for tooth pain, so don't hesitate to come in and get back to your summer planning.