Why Monroe Family Dentistry Loves Greenville, SC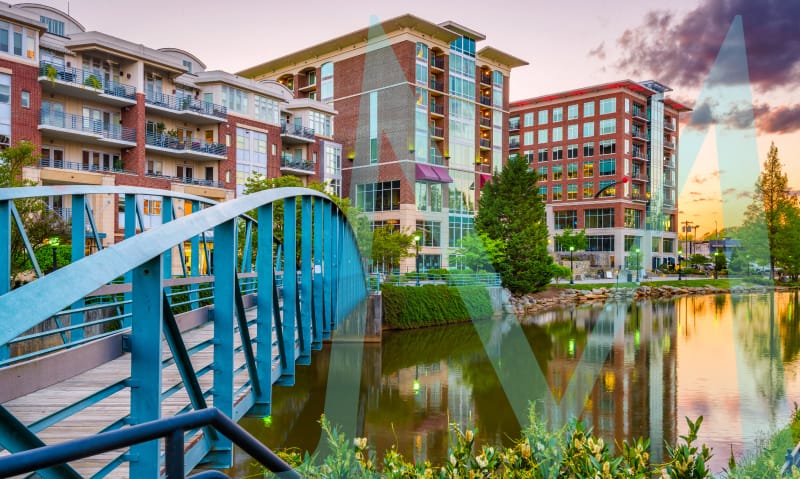 Greenville is our home, and we wouldn't want it any other way.
The U.S. News and World Report ranks Greenville, SC, as the 32nd best place to live. When limited to just South Carolina, our bustling little city comes in 2nd.
Why?
Well, there are a lot of reasons to love living in this rapidly growing metropolis. Check out some of the reasons why the team at Monroe Family Dentistry particularly loves living and working in Greenville, SC.
1. The weather's nice.
Greenville enjoys a temperate climate. While it can get a bit hot in the summer, it rarely gets cold and it's nice enough to enjoy the outdoors nearly the whole year round.
Each month only sees a few days of rain, just enough to keep the city green, but not enough for the atmosphere to turn dreary and gray.
2. It's an ideal location.
Greenville is uniquely positioned to have a little something for everyone. It is close to both the mountains and the beach, making it easy to take day trips to get out and enjoy nature.
The city center of Greenville itself is hopping, and many people come from around the area to shop and enjoy the energetic atmosphere. Everyone agrees that Greenville somehow manages to offer a nice array of big-city amenities, while still offering the warm and welcoming atmosphere of a small town.
The nice weather means the city is pedestrian-friendly and there are lots of opportunities for open-air dining, outdoor plazas, and wide, tree-lined sidewalks. Plus, if you can't find what you need in Greenville (or are looking for a bigger budget event), you can also take a trip to Charlotte or Atlanta, which are each only a couple of hours away.
3. Great hiking and green spaces abound.
In recent years, city planners have begun to catch on to how beneficial it is to have green spaces in cities. Well, Greenville is already ahead of the game, offering ample green spaces with a plethora of parks, tree-lined streets, and plenty of open-air spaces. Plus, 20 miles of paved trails along the Swamp Rabbit Trail offer ample opportunity for joggers and bikers to get out in the fresh air and enjoy exercising in nature.
That's not even counting the great hiking trails and waterfalls near Greenville that are absolutely delightful to explore.
4. Ample recreational opportunities await.
Other than hiking and biking, the nice weather and abundance of green spaces offer ample opportunities for people to enjoy recreational activities outdoors. Go fishing at Paris State Park or Table Rock or head to Falls Park, perhaps the most well-known park in the area, and take a stroll along the pedestrian bridge that embraces a waterfall on the Reedy River.
You'll also find plenty of clubs, leagues, and other organizations offering outdoor fitness classes and sporting activities. The only way you can be bored in Greenville is if you choose to stay holed up in your house.
5. The low cost of living is a bonus.
Living in Greenville tends to be easy on the wallet and real estate in the area offers incredible value. Property taxes are reasonably low and rent prices are reasonable. The cost of living in Greenville, SC is 89.8, which is lower than the US average of 100. A mere three hours away in Charleston, the index jumps to 111, a 24% increase!
In other words, people in Greenville enjoy a comfortable life. That might be one of the reasons why Greenville residents tend to be happy and warm individuals. That warmth is also one of the reasons why we love Greenville, so let's talk about that next.
6. Greenville's warm, friendly people make you feel welcome.
There's nothing like living in a place where the people are warm and friendly. Ask anyone in Greenville and they'll tell you that Greenville residents are some of the most hospitable in the nation.
Here at Monroe Family Dentistry, we've been delighted to call the people of Greenville our neighbors, friends, and of course, patients. We truly feel that we are blessed to serve such an excellent community.
We are proud to boast about our across-the-board 5-star reviews on HealthGrades.com, and patients that say they would recommend Dr. Monroe to everyone. We know that this is Greenville's way of appreciating us for our services.
Living and Working in Greenville, SC
As you can see, there are plenty of reasons why we enjoy living and working in Greenville, SC. The area is a delightful place to live and we feel blessed to serve its warm, friendly people.
Looking for a new dentist in Greenville, SC? Don't hesitate to stop by our office or request your appointment today!